America has turned from being the "Land of Opportunity" to the "Land of Blaming others." We have moved a far distance away from President Harry Truman's slogan of "the Bucks Stops Here". He had a plaque with these words sitting on his desk in the Oval Office as a reminder that the final decision was his. We have moved through the days of Richard Nixon famously saying, "I am not a crook to the spin of our latest politicians. President Obama recently blamed Fox news for the problems in his presidency and blamed racism for his low approval ratings. Vice-President Joe Biden blamed George Bush for the nine trillions dollars in deficit the United States government has incurred since he was elected Vice-President. John Boehner blames the president for the immigration reform impasse. Alec Baldwin blames the media for his messed up personal life. Piers Morgan blames American culture for his low ratings when he quits his show. The Chicago police blame gangs for the increased violence in the city. Everyone in Detroit is blaming each other for the financial Armageddon they are facing. Mayor Ray Nagin famously blamed George Bush for the tragic consequences of hurricane Katrina, while at the same time, syphoning off federal money for his own purposes. Closer to home, Richmond Mayor Gayle McLaughlin is blaming the banks for having to foreclose on homes bought by people who could not afford those homes. Don't even try to discuss the embarrassing status of our public school system because blame is thrown in every direction while we continue to pore tax money into an institution failing miserably in its purpose to educate American children. I could go on for hours, but you get the point. Blame has become a national pastime in America.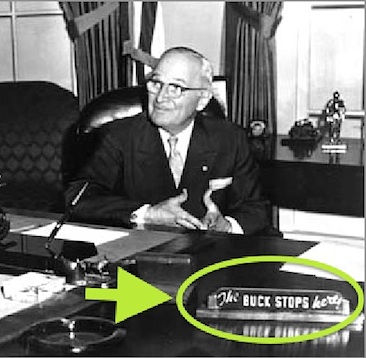 This problem is as old as sin. When Adam and Eve sinned, do you remember their responses? Adam who was given charge of the Garden and supposed to be responsible for his wife blames his wife. Eve then blames the serpent. They follow the sin of disobedience with the sin of failing to take responsibility. In Genesis 3, God doesn't buy the excuses and holds them accountable for what has happened. God is fairly consistent in holding mankind accountable for what they do. Moses is held accountable for letting his anger get the best of him and he is not allowed to enter the Promises Land. Achan is held responsible for his sin of keeping plunder when he wasn't supposed to do that. Samson is held accountable for giving away the secret of his strength. Elijah is held accountable for running and hiding, having a pit party because he thinks he is the only one in Israel still following the Lord. Peter is held accountable for denying Jesus. Ananias and Sapphira are held accountable for lying to God and the church. Peter is held accountable for his hypocrisy in dealing with the Gentile Christians when Jews were around. John Mark is held accountable for his failure on the missionary journey with Paul. Their is an accountability for those of us who claim to follow Christ that is not leveled on those who have not chosen to follow Him.
I Peter 2:11 reminds us, "Dear friends, I urge you as alien and strangers in the world to abstain from sinful desires, which war against your soul. Live such good lives among the pagans that, though they accuse you of doing wrong, they may see your good deeds and glorify God on the day He visits us." This is a stark reminder for out day that even though the pagan culture of America embraces blame, we are to take responsibility. Yes, taking responsibility will cause us pain in the immediate future. Yes, we will probably have to make restitution and amends for what we have done. Yes, we will disappoint some people when they hear the truth. Yes, we will make mistakes and need to take full responsibility for those mistakes. We don't try to spin the truth so we won't look so bad. If we are wrong, we are wrong. Quite blaming other people or circumstances for your misery and pain. We are not the first followers of Christ to be persecuted for our faith and we won't be the last. God's goal for His Church is not her comfort, but her holiness. Being accountable and responsible builds holiness in our lives.
So today, rather than looking for an easy out, will you take responsibility for the decisions you have made and the consequences that come with those choices?