Why is it that we have to learn lessons painfully for them to make an impact on us? I like to kid and joke with people. If you give me a hard time, then I'm going to give it right back. I often find that this allows us to be more human and then talk about more important things. But many people are hurting by that kind of joking, even though they don't show it. I had a friend confront me about this very thing many years ago. He was hurt by the things I had said to him in jest, even though he was doing the same with me. His heart was much more tender than mine and while he didn't show it, my words were serving to make him feel betrayed and broken by me. I was stunned and had to face the reality that my joking was a source of pain or irritation to others. That is a painful lesson for me and one that I have to have repeated to me.
I know I am not the only one who does this. We often say hurtful things, then mask it with, "I'm only kidding" or "bless his heart" or a multitude of other phrases. Most of the time, we don't really mean to hurt anyone, we are simply enjoying the moment. We find something that seems humorous and we bring it up. While others may be laughing, we don't think about the person who may be crying on the inside. We never think that we might just have broken the heart or the spirit of someone who was struggling with a damaged soul. Maybe they grew up in a home where they were never encouraged and never knew if their parents were ever proud of them. Maybe this person just experienced some painful rejection this week and our words sound like more rejection. Maybe this person has always battled having a low self-image and has masked it behind humor. Maybe this person is afraid of emotional/spiritual intimacy, so they keep others at a distance. The bottom line is, we never really know what someone is going through in their personal lives. If our conversations simply stay on a surface level, we will do more harm than good. We forget that sticks and stones do break our bones, but words destroy our spirit. And once those words are out, they can never be taken back. We will never see the tears we cause, but those tears are real.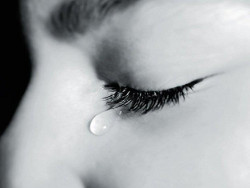 Ephesians 5:3-5 puts is this way: "But among you there must not be even a hint of sexual immorality, or of any kind of impurity, or of greed, because these are improper for God's holy people. 4 Nor should there be obscenity, foolish talk or coarse joking, which are out of place, but rather thanksgiving. 5 For of this you can be sure: No immoral, impure or greedy person—such a person is an idolater—has any inheritance in the kingdom of Christ and of God." Those are extremely strong words written to those of us who claim to be followers of Christ.
James 3:5-6 reminds us, "Likewise the tongue is a small part of the body, but it makes great boasts. The tongue also is a fire, a world of evil among the parts of the body. It corrupts the whole person, sets the whole course of his life on fire, and is itself set on fire by Hell."
Technology has made it easier for us to be critical with our words. We send out a scathing tweet about an anonymous category of people because someone just did something we didn't like. We posts messages of Facebook that seek to run down and find fault with those who hold a different view than our own. We deride people who have taken an oppositional position from us without caring about the demeaning words we use to describe them. We send a text that we think is humorous to someone, but it is really hurtful to them.
This morning, the group of pastors I pray with weekly were discussing this. One of the pastors had a parishioner leave church vowing never to return because of this joking and jesting. Something was said to this person as a joke, but it was hurtful. I wonder how many more people have left the church because something was said to them in just, but the words broke their hearts. They probably never said anything to anyone. They just left and never came back and now will never go to any church again because they don't want to be hurt.
Would you begin to examine the words and you say and the manner in which you say them? Would you vow to have deeper discussions with people, rather than just talk about surface stuff? Would you seek to make amends to anyone you may have offended? Would you be the one to use your words to build up people rather than find fault and tear them down? This is a much more difficult road because we would rather feed the flesh than put ourselves at risk. But our desire should be for our words to bring healing and encouragement.
Perhaps we can allows Psalm 19:14 to be our guide: "May the words of my mouth and the meditation of my heart be pleasing in Your sight, O Lord, my Rock and my Redeemer."